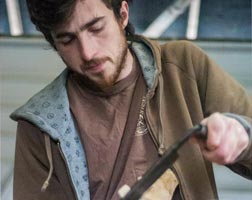 Simon Shields: Having worked with
Ben Law, (he of the infamous Channel 4 'Grand Designs'), Simon has run many making courses with all walks of life, from five year old school children to many green field appearances. He has spent the last six years perfecting his timber framing skills with the legendary Carpenter Oak timber framers (www.carpenteroak.com) as a team leader. He now is ready to pass on these making skills through the medium of
green woodworking.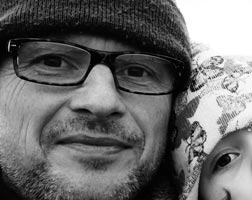 Marcus Tiddy: A life in creative based employment has led to Marcus taking up furniture making, focusing on a passion for Welsh traditional stick back chairs and 'hedgerow' chair making. Helped along by the expert eye of Mike Abbott, Marcus has honed his skills over the last ten years.  He has had many high end commissions for his chairs and shares his passion with his partner in life, Jane Willmott. He now spends his life working the woods and looking after one of the near by farms which is currently in
Higher Level Stewardship.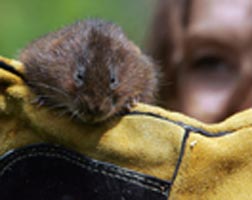 Jane Willmott: A life spent in conservation, from the outback to the Himalayas on projects as diverse has water vole re-introduction, with wildlife legend, Derek Gow to none native species eradication in sensitive areas of the Australian outback, Jane realised the need to settle down and to make, she shares her passion for Welsh stick chairs with Marcus and has had her own high end commissions. She splits her time between being Mum, woodland conservation, and her flourishing native grown
flower business, Blackawton Blooms.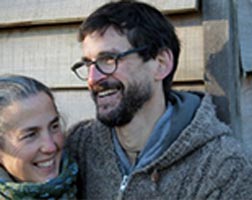 Nick Kary: Nick is a maker and philosopher. A life spent making for a diverse range of people from discerning clients to Conrans gives him a unique perspective on the creative making process. He runs courses to put you in contact with your need to make, he writes poetry, he bakes in his tremendous bread oven and lives life with a passion. Over the last 10 years he has increasingly used his love of wood and words to facilitate and teach. Wood and words, trees and people, material and ethereal, it is here he loves
increasingly to dwell.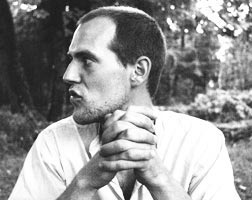 Ben H. Fielding: Starting a 'wood life' on the Lancashire Estates working the trees, Ben moved on to study sculpture at Edinburgh gaining a love of all things moving. Now ensconced in the hedgerows of Devon, Ben has spent the last seven years practicing the ancient art of bow making, combining his love of kinetic sculpture with the practicalities of the woodsman.