Accomodation
There is a mixture of accommodation available, we have two bell tents with wood burners,
several arrive and pitch places and two yurts. In the village there is the George Inn which is also a B&B, and several self catering cottages.
Email to reserve any of the woodland based spaces makeinthewood@gmail.com and put accommodation request and your course date in the header.
Woodland Yurts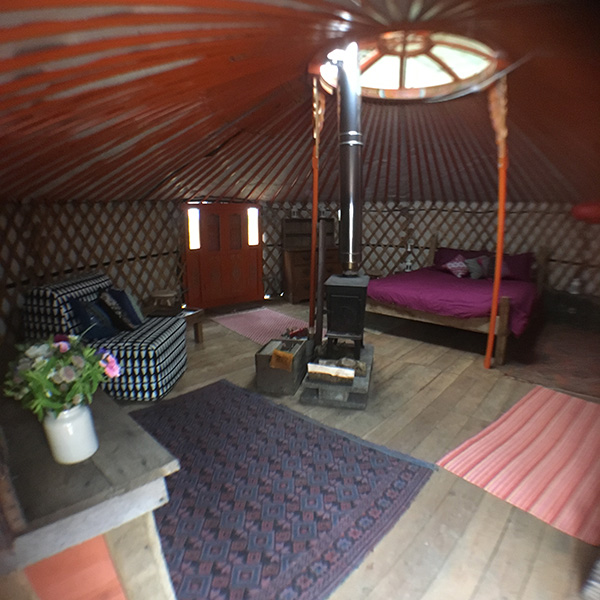 There are two yurts based in Collaford woods which can
be rented alongside your chosen course.
Full details are available here:
https://www.airbnb.co.uk/rooms/11081215?location=Collaford%20Wood%2C%20Make%20in%20the%20Woods%2C%20Blackawton%2C%20Totnes%2C%20UK&s=ntaXFdqW

Bell Tents with woodburners: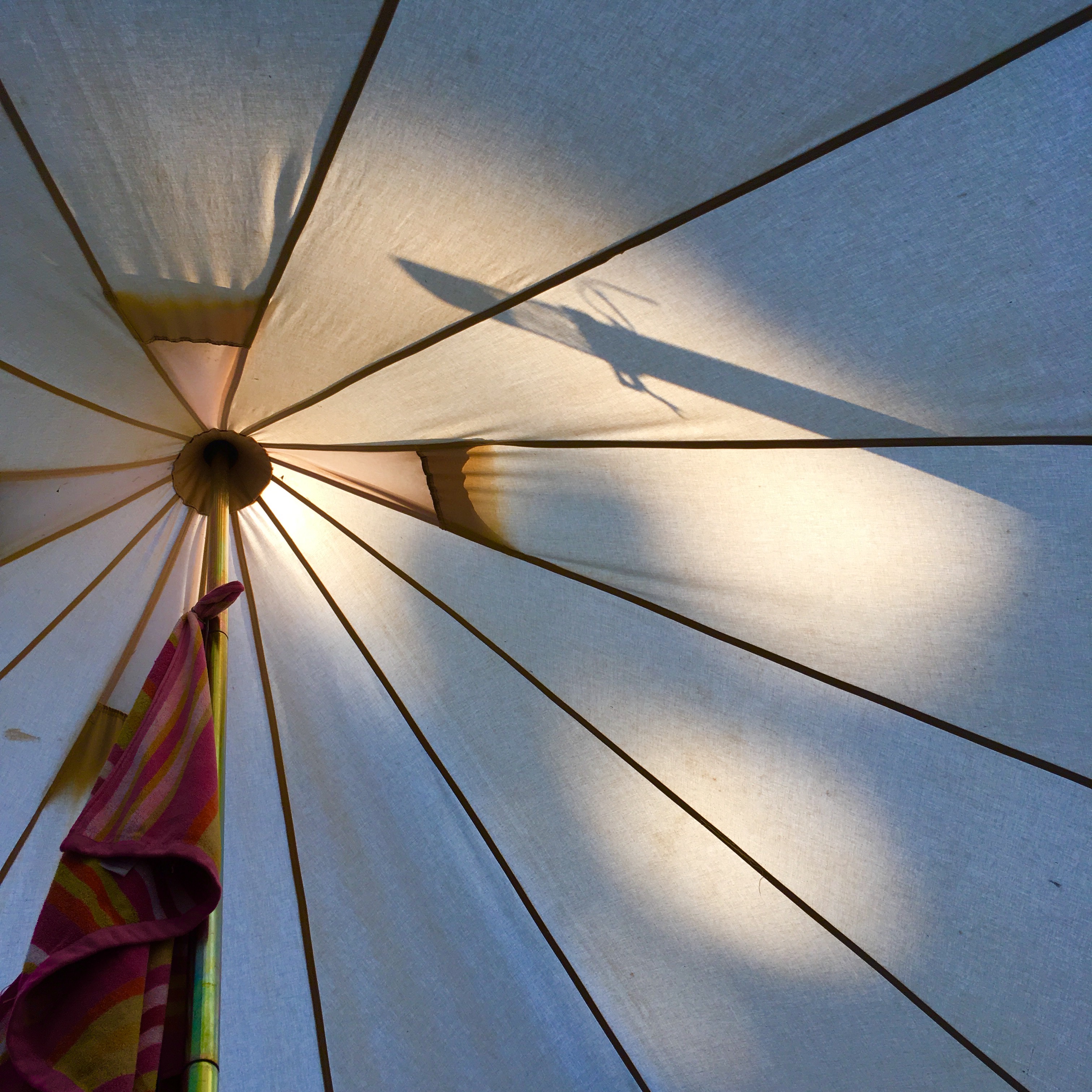 Charged at £8 per person per night or £14 for two people sharing.
There is a supply of firewood included with the Bell tents, but as we are a small sustainably operating woodland with limited long term resources, there is a small charge for any extra firewood required.
Tent pitch:
Charged at £4 per person per night (fits a medium to small tent) call if you have a question.
You will need to bring all bedding/sleeping mats/torches. Crockery and cooking utensils are provided in the communal kitchen. There is a wood burning stove and Pizza oven in the kitchen (explained below) and a gas ring for the doubters (and for early tea when everything about lighting fires is just too much).
Parking
There is on site parking at Collaford Wood, enough for one car per student space. We do encourage car sharing and using public transport where possible. We are very happy to pick you up from the local bus stop by the Ex Forces Tavern pub (1m from Blackawton) or from Totnes train station. If you make it all the way by public transport and on foot we will buy you some well deserved beers.
Please contact us if you have questions about the size of your vehicle. We cannot cope with large vehicles, caravans or mobile homes, there is a
caravan site
at Higher Cotterbury, just up the road who can accommodate them should you require.
Unfortunately we do not allow pets due to the wildlife in the woods and the livestock in the surrounding fields, as mentioned elsewhere we have two intermittent dogs on site who enjoy as much attention as you have time for, Alfie and Morris. However if you require a pet as a personal assistant, ie hearing dog, they are more than welcome.
Facilities
As much a part of making together is socialising together, whether cooking or eating, preparation of communal food is a bonding process. We have a multi- perpose oven based round the rocket stove principal, allowing food for many to be prepared using only twigs and small branches. Rocket stoves are used in many third world countries where firewood is scarce and are the perfect solution for the footprint conscious. The kitchen is next to the workshop and has all you will need to prepare food, from a wood fired piza oven to the rocket stove that heats all the pans and provides hot water.
For food and communal cooking, we have found that a kitty system works the best, taking it turns to provide and cook an evening meal, wash up etc. Lunches are best kept simple, soup, bread and cheese type things. All you need can be supplied by the local shop, phone ahead and order and pick up when you arrive or during the course, the shop is open until 6pm. If you fancy a meal out, the George Inn is only 10 mins walk up the narrow Devon lane (its even quicker on the way back. Booking ahead advised).
What we take from nature, so we give back. Our compost toilet takes pride of place at the bottom of the work and live space, Marcus Jane and Simon have many years of experience building compost toilets in many places round the world, so we hope that this version does not disappoint. The compost is allowed to fully break down before it is recycled.
Disabled access
Although Make in the Woods supports fair rights and access for all, putting it into practice in a bit of South Devon woodland is not easy. There is a steep track climb for the first part of the woods leveling out to the much flatter (but not flat, its a Devon woods) workshop area. Collaford is a working wood and the tracks, although firm are not metaled surfaces and wheelchair access is all but impassible. However, if you can get in our 4×4 and don't mind being ferried about a bit on site we are willing to help as much as possible to help all  disabled people from benefitting from one of our courses. Call or mail us at makeinthewood@gmail.com with your particular needs and we will try to accommodate you as best we can.
Whole site booking
If there are six to eight of you who want to book the whole site, perhaps for a pre-wedding 'something different' or a group of friends, there is an option to provide catering for lunches and evening meals. Please email us with an initial inquiry and we can put a package together for you.
Woodland management
Collaford wood is run as sustainably as possible. There are 16.5 acres of mixed broadleaf woodland with living evidence of overwintering stock pasture on the flatter parts. Management of the woods stopped pre war and it has been left to its own devices ever since. Rather than just leaving the woods to be pretty, the management plan has introduced a process of clear felling, re stocking and introducing more age and local species diversification. The main income to date has been based on selling the clear fell to local timber mills, using the waste for firewood and planking the premium butts to sell to local furniture makers. Blackawton is a hive of activity with no fewer than six furniture makers based in parish, not bad for a population of 650. The making courses are part of a continual process of income diversification, allowing people to benefit from living and experiencing traditional woodland skills.
Mammal species recorded have included Badger, Brown Hare, Roe Deer, Fox, Rabbit, Grey Squirrel, Long-tailed Field Mouse, and Stoat.
Plant species list
| | |
| --- | --- |
| Latin name | Common name |
| Fraxinus excelsior | Ash |
| Fagus sylvatica | Beech |
| Prunus spinosa | Blackthorn |
| Malus sylvestris | Crab Apple |
| Sambucus nigra | Elder |
| Ilex aquifolium | Holly |
| Prunus avium | Wild Cherry |
| Crataegus monogyna | Hawthorn |
| Larix decidua | Larch |
| Quercus robur | Pedunculate Oak |
| Castanea sativa | Sweet Chestnut |
| Acer pseudoplatanus | Sycamore |
| Corylus avellana | Hazel |
| Pteridium aquilinum | Bracken |
| Rubus fruticosus | Bramble |
| Eupatorium cannabinum | Hemp Agrimony |
| Digitalis purpurea | Foxglove |
| Clematis sp. | Clematis |
| Galium aparine | Common Cleavers |
| Arum maculatum | Lords and Ladies |
| Lysimachia nemorum | Yellow Pimpernel |
| Oxalis acetosella | Wood Sorrel |
| Teucrium scorodonia | Wood Sage |
| Fragaria vesca | Wild Strawberry |
| Allium ursinum | Wild Garlic |
| Daucus carota | Wild Carrot |
| Cicuta maculata | Water Hemlock |
| Chrysosplenium oppositifolium | Opposite-leaved Golden-saxifrage |
| Adiantum sp. | Maidenhair species |
| Ranunculus ficaria | Lesser Celandine |
| Stellaria holostea | Greater Stitchwort |
| Scrophularia nodosa | Figwort |
| Mercurialis perennis | Dogs Mercury |
| Viola canina | Dog Violet |
| Ajuga reptans | Bugle |
| Hyacinthoides non-scripta | Bluebell |
| Asplenium scolopendrium | Hart's Tongue  Fern |
| Geranium robertianum | Herb Robert |
| Lonicera periclymenum | Honeysuckle |
| Hedera helix | Ivy |
| Umbilicus rupestris | Navelwort |
| Urtica diocia | Common Nettle |
| Primula vulgaris | Primrose |
| Silene dioica | Red Campion |
| Prunella vulgaris | Selfheal |
| Veronica spp. | Speedwell spp. |
| Nasturtium officinale | Watercress |
Bird Species List
| | |
| --- | --- |
| Common name | Latin name |
| Buzzard | Buteo buteo |
| Ring-necked Pheasant | Phasianus colchicus |
| Woodcock | Scolopax rusticola |
| Woodpigeon | Columba palumbus |
| Tawny Owl | Strix aluco |
| Great Spotted Woodpecker | Dendrocopus major |
| Wren | Troglodytes troglodytes |
| Robin | Erithacus rubecula |
| Blackbird | Turdus merula |
| Redwing | Turdus iliacus |
| Fieldfare | Turdus pilaris |
| Blackcap | Sylvia atricapilla |
| Chiffchaff | Phylloscopus collybita |
| Nuthatch | Sitta europaea |
| Treecreeper | Certhia familiaris |
| Blue Tit | Cyanistes caeruleus |
| Great Tit | Parus major |
| Long Tailed Tit | Aegithalos caudatus |
| Chaffinch | Fringilla coelebs |
| Bullfinch | Pyrrhula pyrrhula |
| Jay | Garrulus glandarius |
| Raven | Corvus corax |
| Rook | Corvus frugilegus |
| Jackdaw | Corvus monedula |